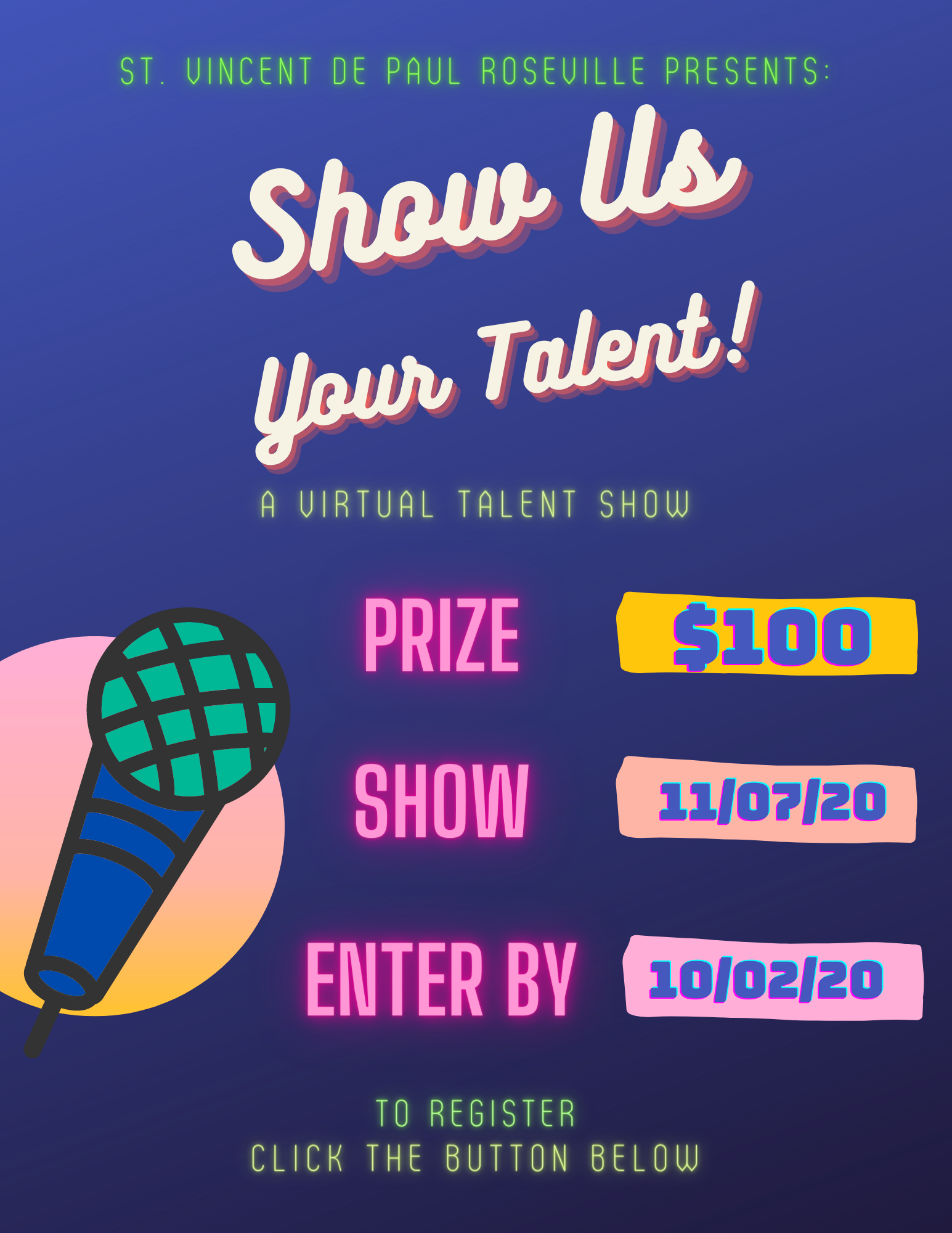 ***** GREAT NEWS !! ***** The DEADLINE for SUBMISSIONS has been EXTENDED to OCTOBER 9, 2020! There is still plenty of time to submit your video!
This virtual event will be an opportunity for your family to help support the important work of St. Vincent de Paul in two Ways.
First, if you have a story of how your faith and family have sustained you during this pandemic, please share a video of it with us. You can sing, dance, play a musical instrument or just share your survival story. Your video will bring joy and laughter to many people watching at home!
Second, your financial gift will help us to continue feeding the hungry, delivering food to seniors and providing financial assistance to needy families.
Applications must be submitted online by the deadline:10/09/20
• Applicants will receive a confirmation receipt after submitting application.
• All talent: Video/ Sound clips should not exceed 3 minutes.
(Nonfunctional links will result in disqualification)
• Open to all individuals and families
• One entry per family.
• Attire and image, as well as content of performance, must be suitable for family viewing.
Please note that SVDP neither retains nor returns promotional materials. The SVDP is not responsible for late, lost, damaged, misdirected, stolen or misappropriated entries. Entry constitutes permission to use participant's name, likeness, and performance for future advertising and publicity without additional compensation.
Online Judging:
• Creativity, originality and talent
• Uniqueness and appeal of performance
• Style and showmanship
• Quality of performance
• Overall presentation and completion of application
The sole decision for selection rests with the SVDP
Committee. The Committee has the right to reject any
application for any reason at its sole and absolute discretion.
By entering this competition, the entrant agrees to accept and be bound by
the decisions of the SVDP Committee.
Monetary Prizes:
1st Place – $ 100.00
2nd Place – $ 50.00.
3rd Place – $ 25.00